Tips for a Great Engagement Session from a Pro Who Knows
Do you need engagement session help? I'm here for you! An engagement session is a great way for your photographer to get to know you in front of the lens- it's also a great way to see how your photographer performs so you have a better idea of what to expect on your wedding day. The more comfortable you feel, the better your photos will turn out. I have worked with so many personality types and done so many engagement sessions they have become second nature to me. Here are some things i've learned along the way that can hopefully help to guide you through the process and set the scene to make some magical photos:
Location/ Location/Location Are you totally confused about where to do your engagement session? Well, first things first- start out by selecting what setting you want for your shoot. Are you leaning towards the beachy laid back vibe, a forrest/ wooded area, or an urban feel for your photos? Remember time of year is important too, if you want to be kissing your fiance a field of flowers, you'll want to schedule something for the spring. If you want to be bundled up and in front of a fire making s'mores, it's better to wait for winter. I frequently ask my couples what they like to do in their free time- is there an activity that you LOVE to do together? Bowling? Paddle boarding? Video games? Is there a restaurant that is special to you (maybe your first date) Where did he propose? These are all things to consider while determining a meaningful location for your e-sesh.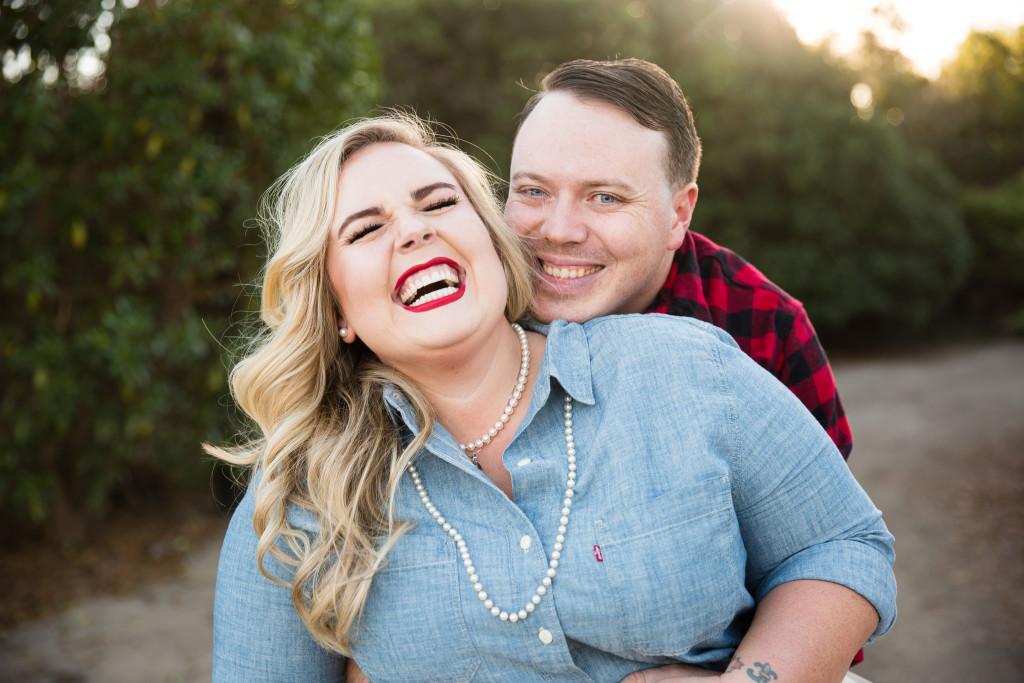 **You may also want to replicate the theme of your wedding, if you're having a black tie affair, maybe you'd want to get nice and dressed up for your engagement session and take photos at a swanky bar in downtown SD. If you're having a rustic wedding, maybe throw on some boots and we'll get some gorgeous photos outdoors in some wild flowers. And if you're totally out of ideas, and clueless at this point, no worries friend I'm here to help! Being born and raised in San Diego, I know of a million-and-one great spots for engagement shoots- don't feel badly if you need my help on this one. There's a benefit to working in San Diego…there are photo opts EVERYWHERE and I absolutely love shooting in new locations!     
Outfit Selection/ Hair and Makeup Help Okay so I know for us ladies this is a HUGE deal! Where to even start?! Well, Pinterest has a plethora of outfit inspiration boards and color combos that will get you both looking sharp and ready for your close up! No need to be matchy-matchy i.e. don't need to wear the same color dress as his shirt etc. The key is to have similar tones and look like you're going to the same place. For example, if one of you is dressed for a night out on the town, the other shouldn't look like they're off to the beach. I've literally had a client show up in a semi formal dress and her fiance in basketball shorts and tank top (no bueno babes) When thinking of your outfit, first start by thinking seasonally– don't freeze in a mini dress and sandals in the middle of winter at the beach, don't go for a snuggly fall look with a cardigan and scarf dying of heat in the middle of summer. Just check the weather and layer if you need to, that will also give you some options to mix your look up easily. Make sure that the outfit you choose makes you feel beautiful and most importantly comfortable! If your cleavage is too exposed or your dress it too tight, you may spend your hour session focused on adjusting your clothing so your bits and pieces don't show. If you feel insecure showing your arms, choose something with long sleeves- cover up anything you feel uncomfortable showing and flaunt what makes you feel beautiful. Second step is think about the location of your shoot, if you choose an outdoor/woody/ forrest location, it would be best not to dress in formal attire and have to traverse rugged terrain in heels…if you choose an upscale restaurant for a swanky, martini drinking, James Bond style vibe, don't wear flip flops and a college sweatshirt. As for makeup, it's a great idea to do your wedding makeup "mock trial" the day of your engagement session. This way you can iron out any issues with your makeup artist for the wedding while getting that full face of glam that looks FAB for the camera! Also, you can see how your makeup photographs and make any adjustments before the big day if you aren't 100% stoked on the way it looks on camera.
Don't be on Time, be EARLY When your photographer sets a time for your shoot, they take into account key lighting times for flattering photos. If you show up late you are missing out on amazing shots! The "golden hour" is the hour right before sunset- the sun is low in the sky and gives off the perfect light for the flattering, warm photos that we all love. If you show up even 5-10 minutes late, it can really limit the amount of killer photos your photographer can get.
My tip would be to arrive not on time, but early. If your shoot is set for 4:00pm, be ready to start the shoot at 3:45pm (this means at the meeting spot, looking FAB, and ready to rock and roll) Most of the time I arrive to shoots WAY early to scout locations and check lighting- if my clients are there early, i'm keen to start the shoot early giving us bonus time to capture awesome photos! It also starts the shoot off on a great foot when I know my clients respect my time- it gives me all the warm fuzzies 🙂
DON'T get HAMMERED! While a glass of beer or wine (white wine, watch those teeth stains!) is a great way to kick off a shoot and help loosen you up a bit, a few drinks can take your shoot from fun to sloppy. Unfortunately, when we drink our eyes get glassy and red and it's not the most flattering for photos…save the drinks for a date night AFTER the shoot. You're already dressed up and celebrating your love, keep the night rolling and have a nice night set up as a reward for a job well done!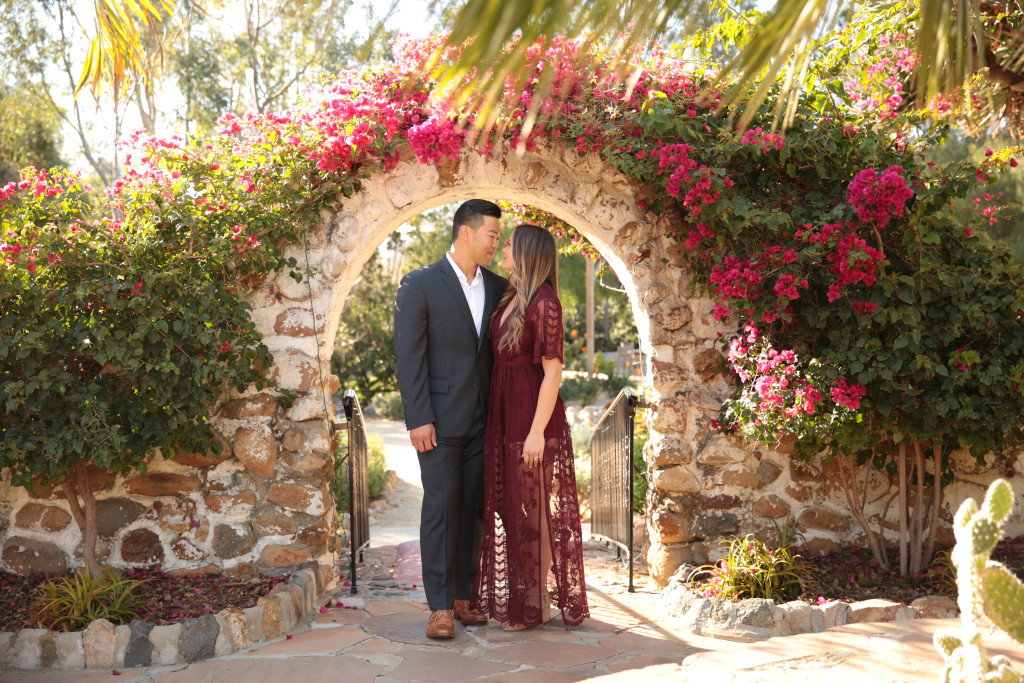 Keep it LIGHT While it's great to have options for clothing/ props etc. for the shoot- don't bring a big bag of stuff to the session. Let me rephrase that…bring a big bag but leave it in the car. Lugging around a change of clothes/ props/ makeup and hair tools etc. will weigh you down and we will have to keep stopping to set it down and hide it every time we want to stop and take a photo. I like to keep things moving along, I get inspired easily and embrace the flow of the process. We can for sure do an outfit change and use any props you brought, I encourage it! Just leave that duffle bag'O'stuff in the trunk for now and we'll come back to it later. I promise.
RELAX This can be the easiest, or most challenging part of the experience depending on who you are. Some people just immediately shine when I hold up my camera, but most people (myself included) feel very awkward and unnatural having their photo taken. Let me be the first to tell you I GET IT! When my husband holds up my camera to take a photo of me, I instantly turn into an awkward, blushing, 13 year old girl. I feel nervous, I don't know where to look or what to do with my hands, i'm a mess. The nice part is that i'm pretty great at getting clients to open up and feel comfortable- I actually pride myself on it. Now…if only I could have someone help ME! Haha! Just remember it is MY JOB to produce amazing photos of our adventure together- it is not YOUR JOB to know what you're doing and have all the answers. It's your job to have fun and enjoy yourself, and that's it! If you see a photo where the couple looks uncomfortable or unhappy- that is entirely on the photographer's shoulders. I'm the professional, and i've got you.
Sessions over, NOW WHAT?  Okay, so you've taken all of these tips to heart, you had a total BLAST on your e-sesh, and now have gorgeous photos in your possession- now what? Our time together was meant for so much more than to get lost in the shuffle on Facebook or Instagram. Here are some ways you can utilize your engagement session photos for your wedding:
Use the photos to make an album, and use the album as a guest book at your wedding. This is what I did for my wedding and I recommend this to all my clients. What better way show off your photos and see your relationship come full circle with all the well-wishes from guests at your wedding?! Choose a few of your favorite photos from the session, make an album online and then buy some paint pens and have your guests sign the photos on the big day!
Incorporate the photos into centerpieces on each table. I have seen some clients print their photos as use them on each table in frames matching wedding decor- super cute idea!
In similar fashion to the photo album, you can also take your favorite photo, blow it up and have it framed, letting guests sign the matting between the print and frame.
Blow the images up on canvases and use them for wedding decor (had a couple do this and it was AMAZING)
Save the Date cards
Invitations
Wedding websites
Social media announcements/ profile photos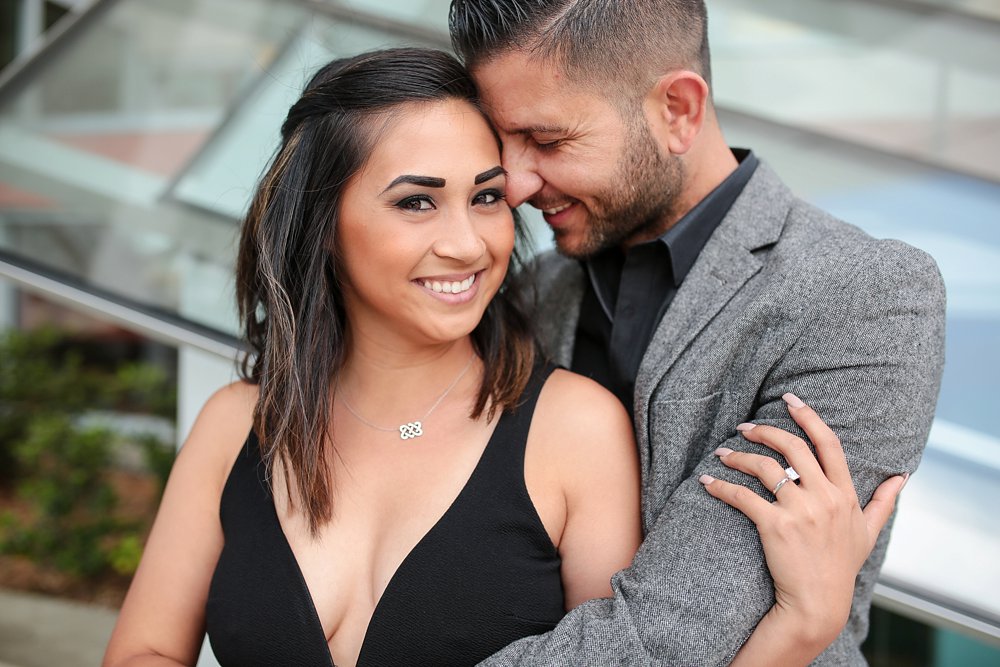 Well friends, I hope this has helped you learn some tips to make your engagement session amazing! If you have any other tips or have learned from a past mistake (eeeek) please comment below and let me know if I left anything out! It's my mission to make this process as fun and carefree as possible! Because in the end, the most important part is having a blast and creating some rad photos while we do it. Cheers!
Mary